"Approximately 60 percent of women who experience post-abortion sequelae report suicidal ideation, with 28 percent actually attempting suicide, of which half attempted suicide two or more times."
Everyone knows that abortion ends the life of the baby, but did you also know that it could end the life of the post-abortive woman?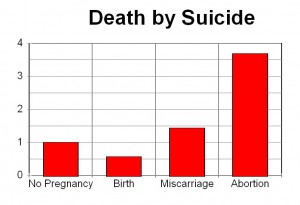 The suicide rate for women is three times higher for those who have had an abortion versus those who have not.
Please help prevent abortion by supporting our quest for fetal models for the Cross Timbers Pregnancy Care Center. Give online at www.ctpcc.org OR mail a check to PO Box 163, Stephenville, TX 76401
Information found at http://afterabortion.org